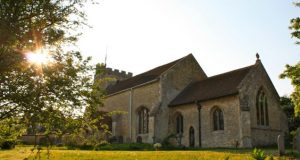 Response to Coronavirus
If you are isolated at home and want someone to talk to, or worried about a neighbour and unable to safely help, then you can contact Rev Richard on 01844 208987. We'd love to talk to you, and we can seek practical help through village social networks and our own church community list.
Praying & serving together through the pandemic:
Worshipping online:
Every Sunday – Watch the pre-recorded service for the week on our YouTube Channel: Click here to view
Watch previous 'Family Assemblies' – short, informal acts of worship for all ages: Click here to view
Worshipping in church:
The church building is open every day for private prayer and reflection.
Hand sanitiser is provided just inside the door and we ask you to keep 2 metres social distance at all times.
Pray for someone special – bring an unlit candle to leave in church
You're invited to bring a self-standing candle like a t-light, to represent someone you are praying for or missing dearly. Simply leave it on the tiles near the communion rail – all candles will remain in church until public worship is re-started, and Rev Richard will light them once a month and post this on The Village website.
And share your experience of lockdown – bring your art to leave in church
However old you are, you're also invited to bring a piece of art on a single piece of A4 paper, expressing in words or pictures your feelings through the lockdown – positive and negative. Simply leave these on the floor around the font  as a prayer for the whole community.
Introducing the Parish
Welcome to your village church! Come on an adventure as we give thanks to God the Father, find rest in Jesus, and serve others in the power of the Holy Spirit. We're part of a team of 3 churches offering services ranging from the very traditional to the extremely informal; plenty of opportunities to get involved with activities during the week; and the chance to share important life events such as christenings, weddings, and funerals. If you'd like to know more then get in touch, or simply drop in to church – we're open every day!
Keeping our family safe
We are committed to the safeguarding, care and nurture of the children and people of all ages in our church community. To view our Parish Safeguarding Policy and safeguarding contact details click
here
.