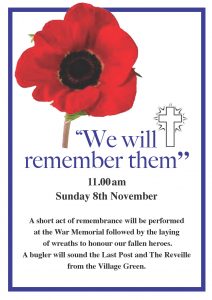 Please note that only invited representatives of Chearsley Parish Council,
veterans and serving members of the Armed Forces and their families
residing in Chearsley, may attend the ceremony at the memorial, and must
submit their contact details as requested. The Royal British Legion has asked
that people observe the two-minute silence from the safety of outside
their own homes. If you choose to visit The Green or any other public space,
keep each other safe by respecting the 2 metre social distance rule, and do not
attend if you have symptoms of COVID-19, are isolating, or in quarantine.